SciFi Industrial Project
The SciFi Industrial Project exhibits aspirational plausibility with the primary goal of general audience mass appeal. A future sandbox universe describes an exciting future in space for humanity, with its own history, philosophy, mythology, and technology. The story is based on warring enlightenment philosophies wrapped around the necessity and evolution of humanity's relationship with machines.
Learn more about the Battledart here. Learn more about the Battledart's Advanced Rolling Cockpit here.
Please contact me If you would like a copy of the Design Journal PDF.
Realized.
End-to-end content creation combines story, design, modeling, surfacing, animation, environments, compositing, and rendering to tell the story of a designed future universe.
Aspirational plausibility with a glowing future core, and a dash of sorcery: SciFi Industrial.
SciFi Industrial was exhibited at the Academy of Art University 2019 Spring Show.
Imagined.
The overall project was Inspired by the excitement of 1950's aerospace/entertainment collaboration, and follow-on grand and exciting visions of tomorrow.

Approach
The project was approached as a franchise development. Starting with story development and early concepts, the project progressed through refined concepts, refined contexts and stories and culminating with a final design.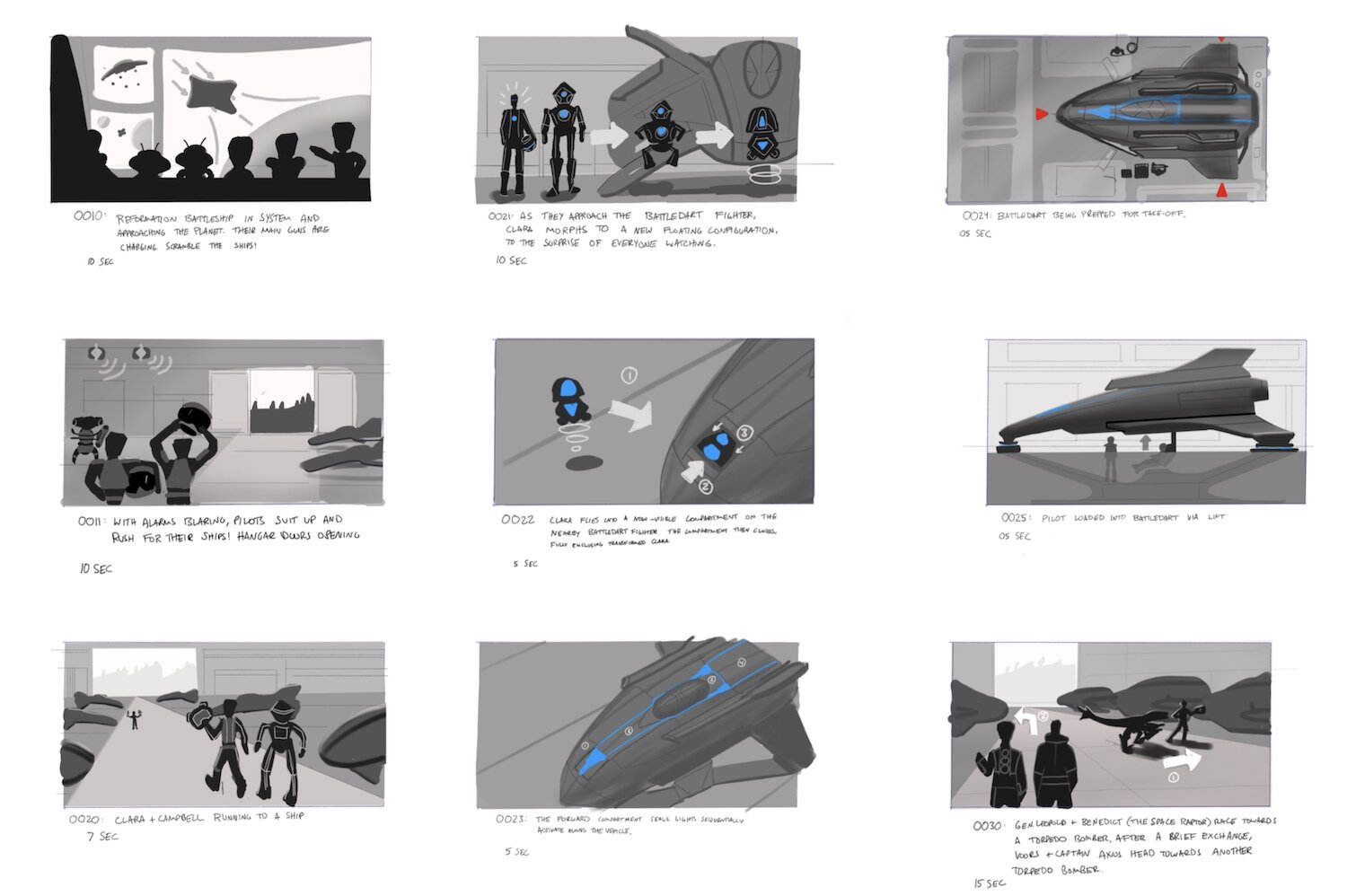 Story Development
I wrote a complete story arc into a five act screen play, and started to refine the characters and settings. Out of my original contexts, I decided to design a small craft. I did this because I needed to work on something small enough that I really focus on detailed human-scale design problems. Many of my storyboards are showing human interactions with the human-scale machines.
Concept Art
Learning classical composition from the School of Game Development, I was able to combine 3D modeling in Modo with Photoshop painting (and basic process work with gouache) to create this dynamic composition showing early vehicle concepts with a 70's used future aesthetic.
Read more about the Concept Art & Design services provided by SFID <here>.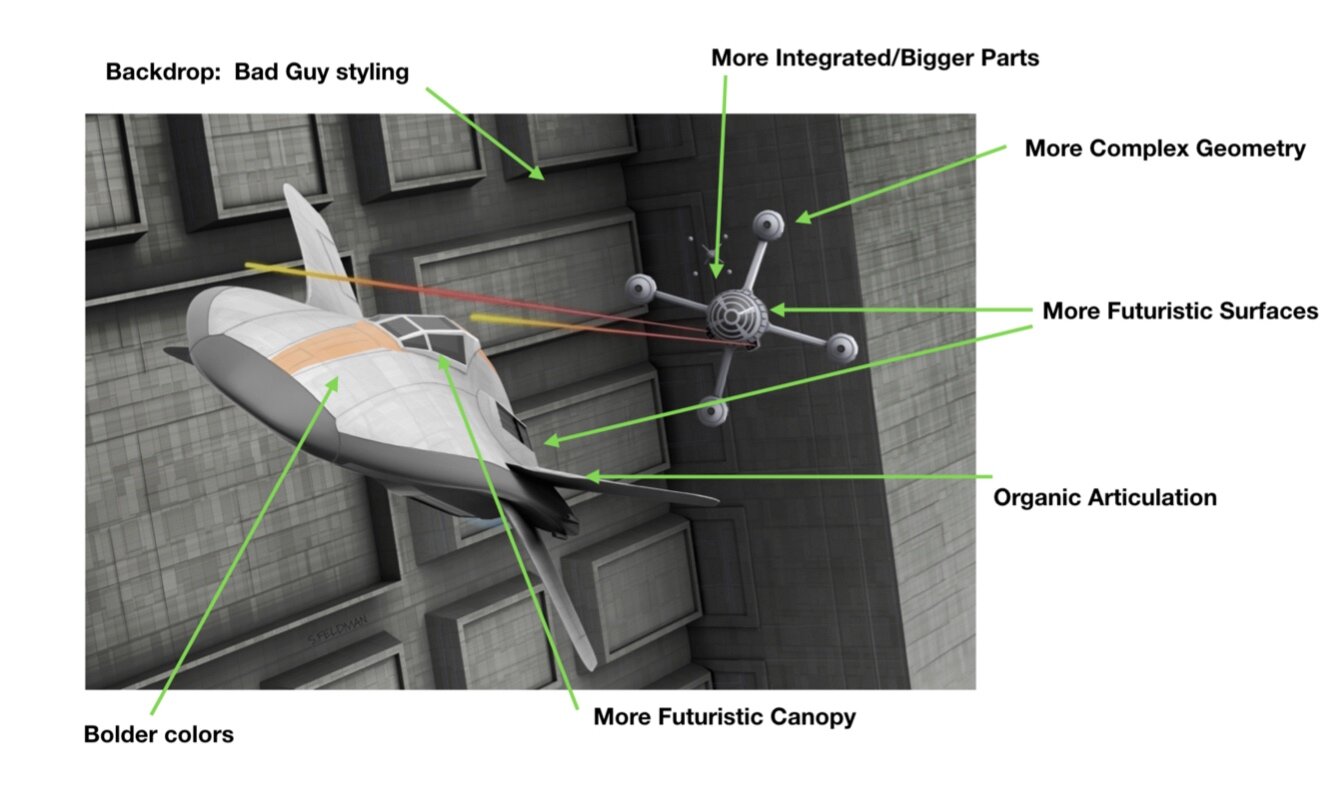 Style Guide Development and Design Considerations
Mass Appeal.
Human design and construction.
Future Technology.
Mission + Purpose.
Size and Scale.
Product Requirements.
Audience Identifiability.
Menace and Agility.
User(s).
Good Guy aesthetics.
Product Requirements
Product requirements have been derived from operational, technological, stakeholder, aesthetic, and business considerations. The Battledart is an entertainment product, using the design process to create my own universe, worlds, characters, and creatures. They have driven the design.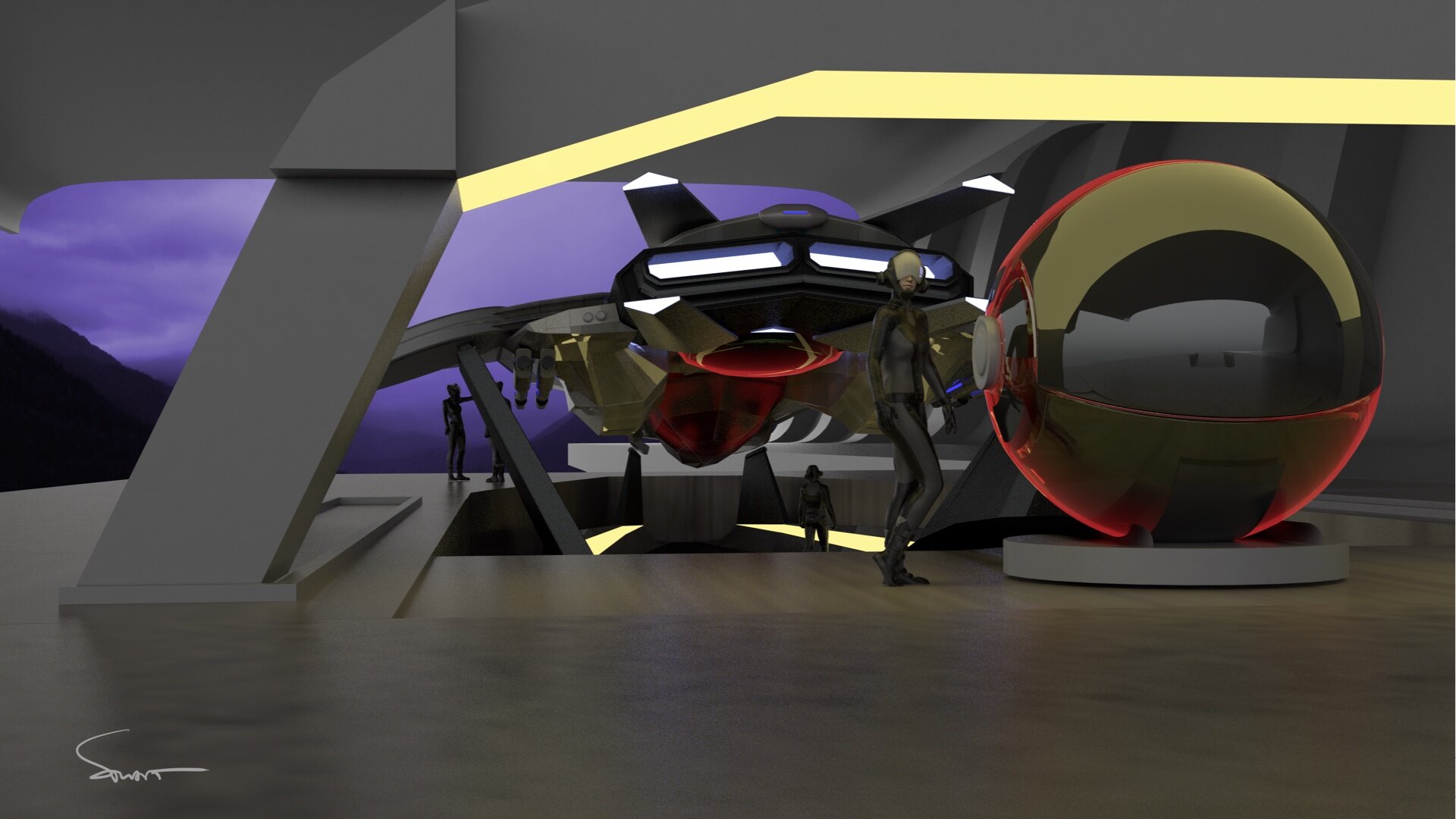 Designed.
The resulting aesthetic of late 21st century optimism shows aspirational plausibility with a glowing future core, and a dash of sorcery: SciFi Industrial.
Supporting Assets for an Expanding Universe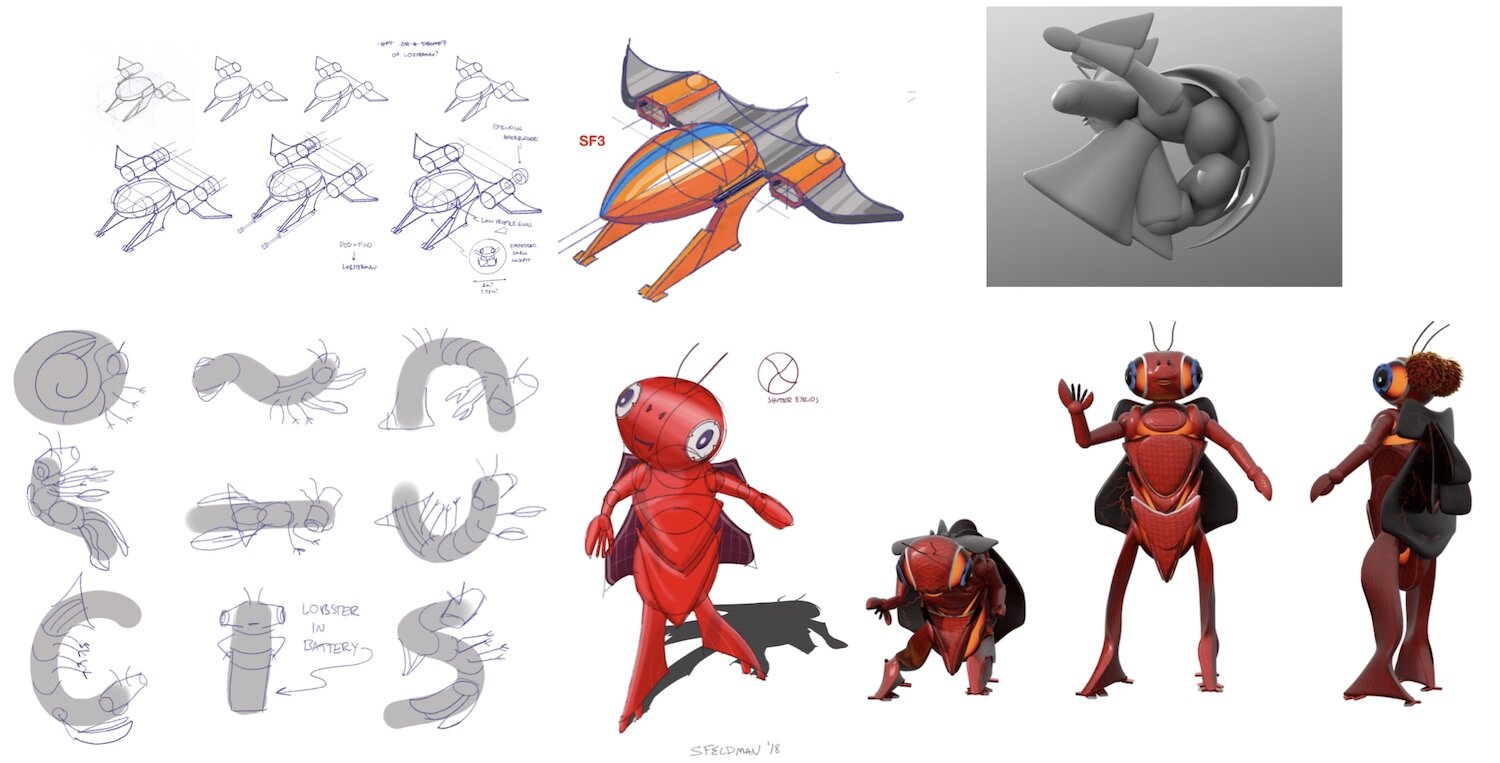 The Lobstermans
The addition of multiple non-human pilot species resulted in innovative approaches to design and functionality.
The Evoraptors
They landed on the moon way before us!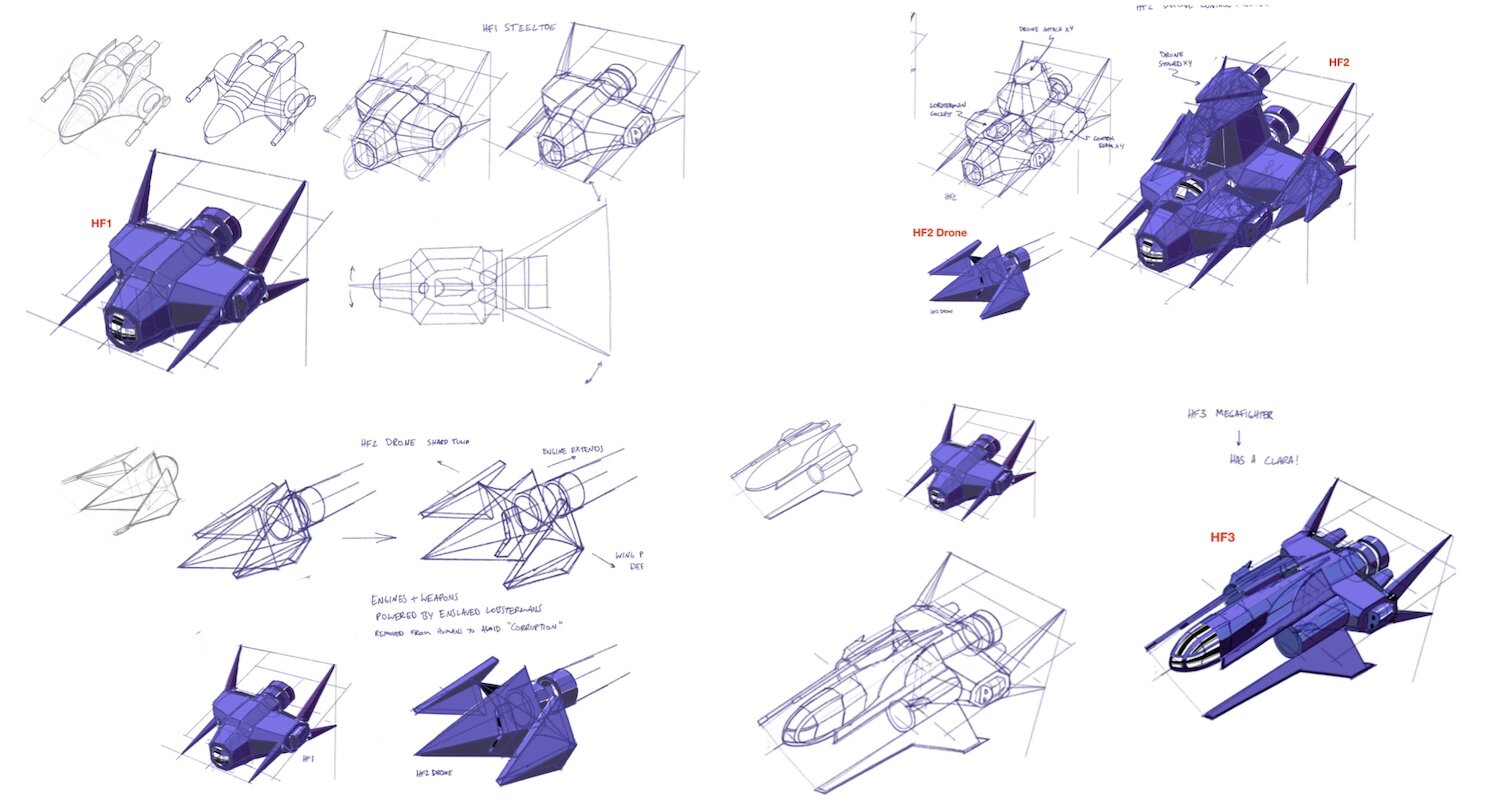 The Reformation (Bad Guys)
Advanced technology, bad guy aesthetics. Big shoes. Drone control ships.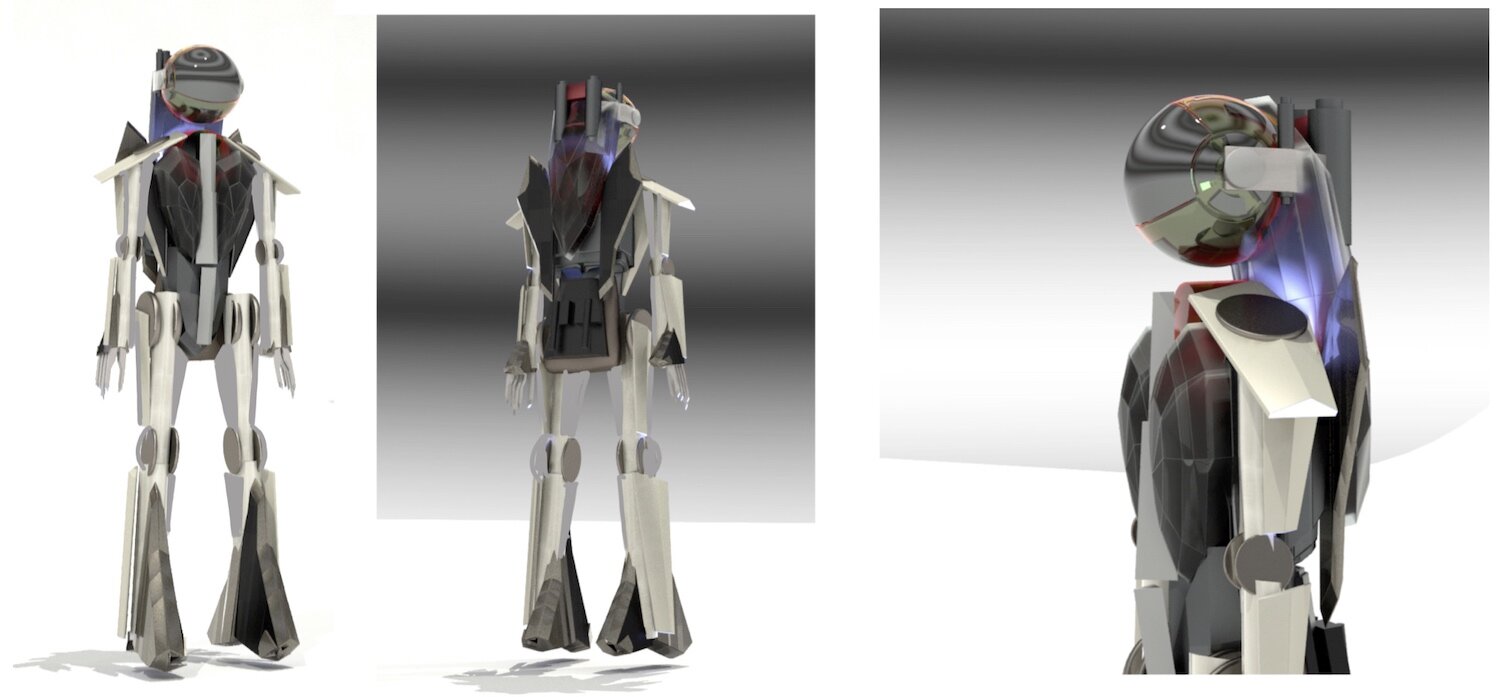 CLARA Battledart AI Copilot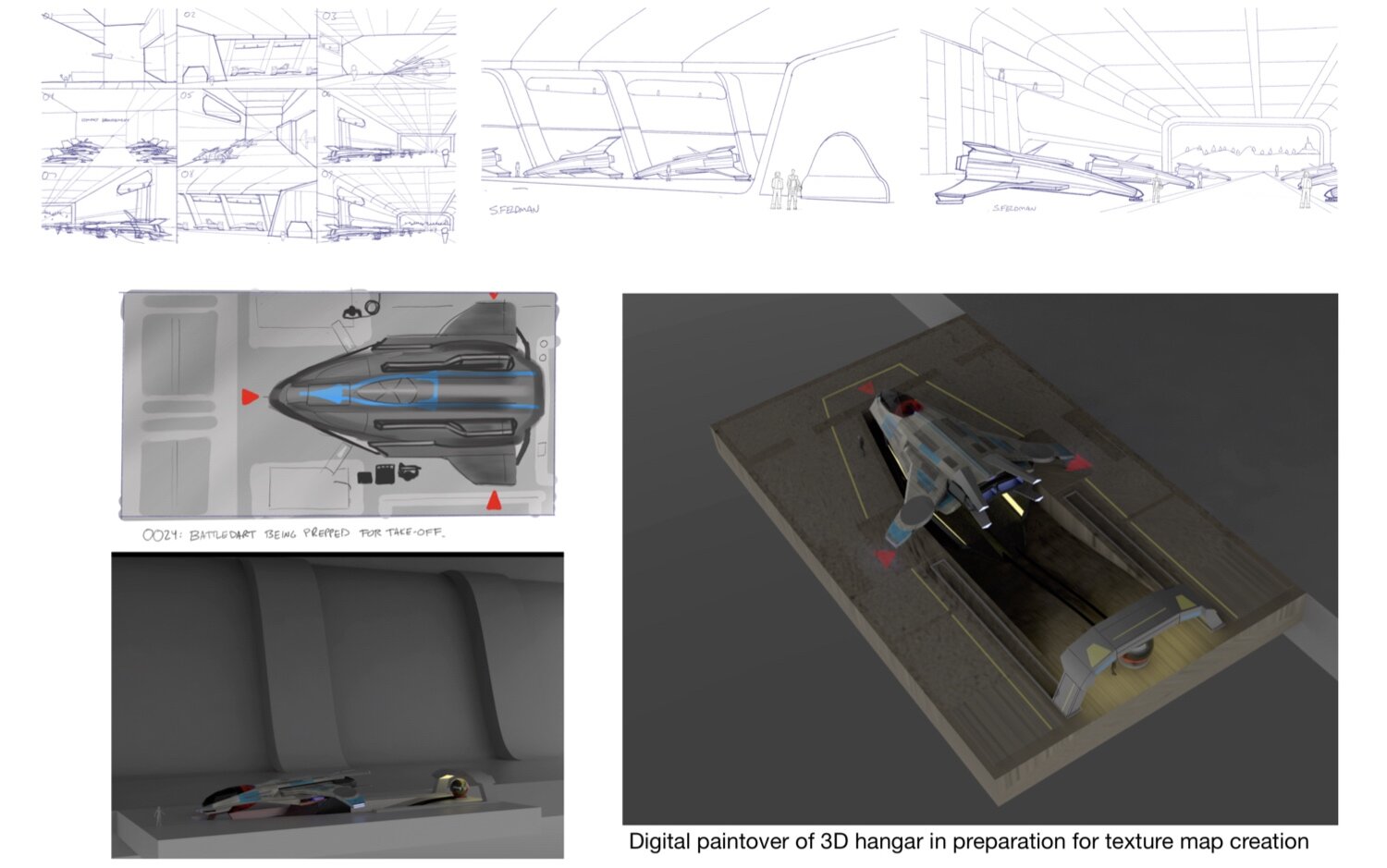 Environment Development
Built around pacific northwest-type environment supporting perch-landing, ARC-rolling Battledart and its pilots.
The Future
This project is not complete. Not until you can buy a Lobsterman hat at the themepark. Not until the Battledart is on the big-screen. Not until you can play with the vehicles, playsets, and action figures. Not until you can ride the rides. Not for hundreds of years until a vehicle like the Battledart really flies.