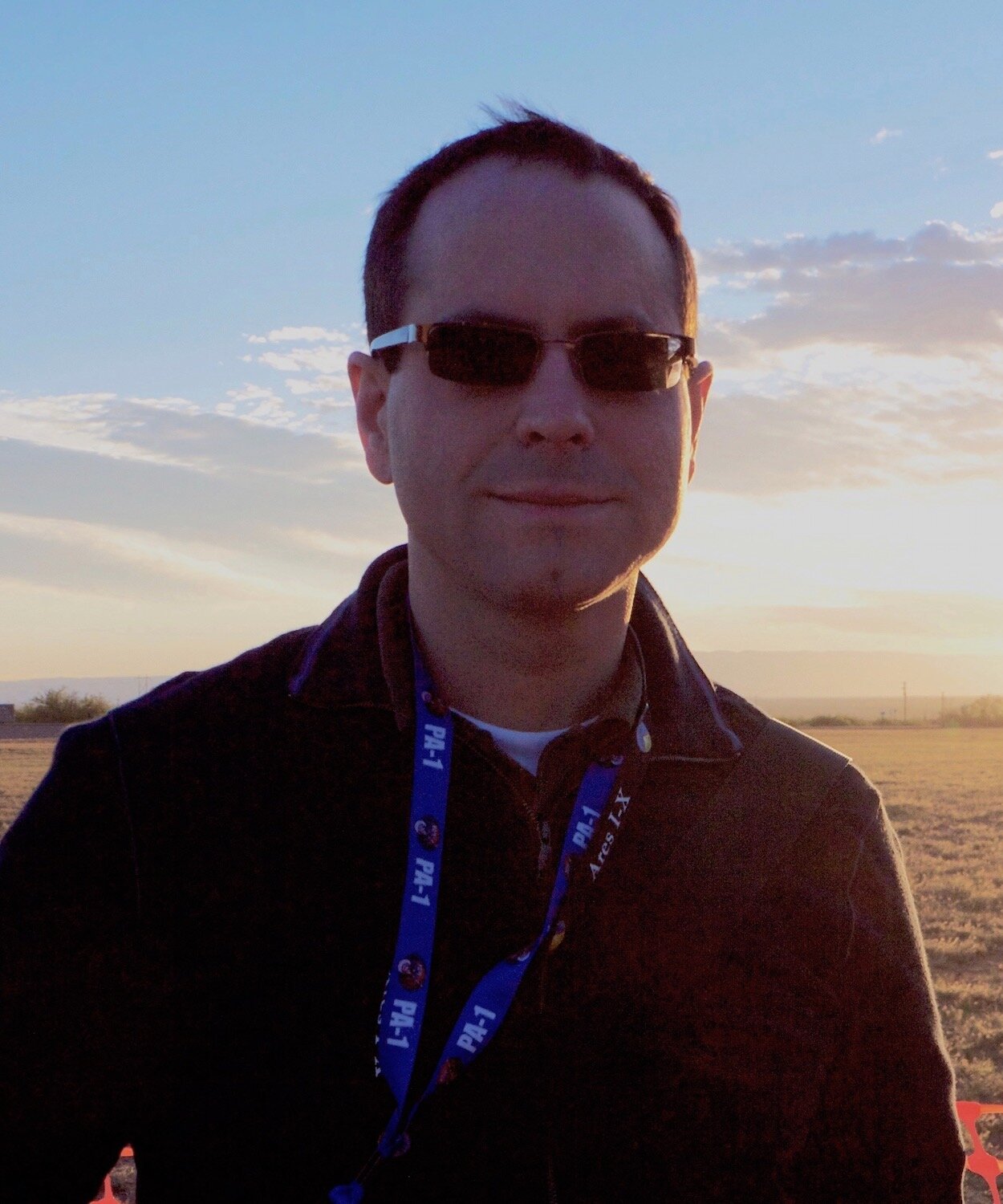 Aerospace Industry Experience
I have contributed to successful space projects across space science, human exploration, and commercial space. The image above of Mars was taken by the NASA Opportunity rover Pancam (Image Credit: NASA/JPL-Caltech/Cornell University). I worked on this program during development!
Examples of specific project experience are included below.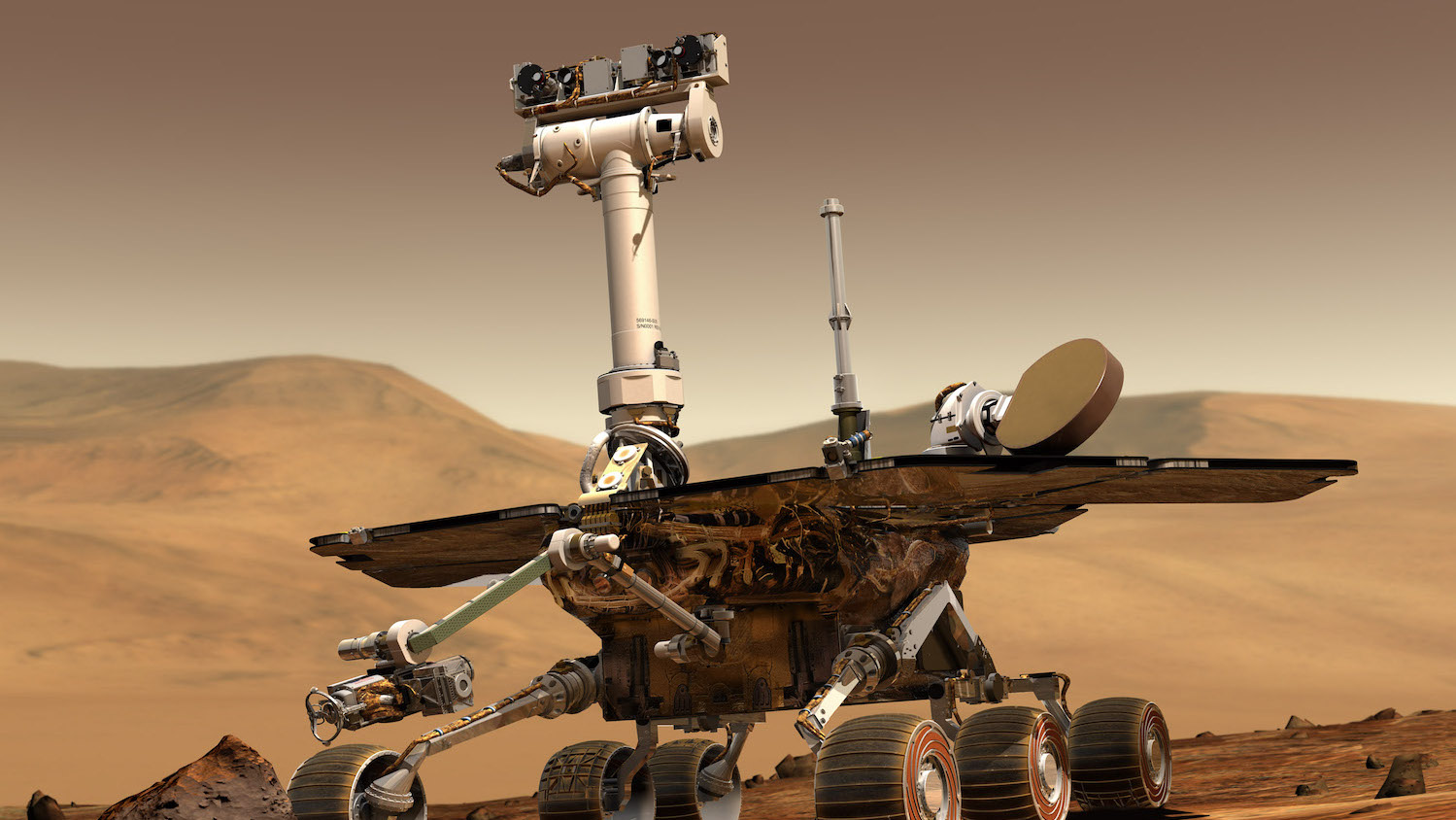 Mars Exploration Rover Spirit and Opportunity (launched 2003)
I served as the Failure Modes Effects and Criticality Assessment (FMECA) Lead, working with JPL through conceptual and preliminary design. My team developed an interactive, process-driven method that was able to keep pace with a fast moving project, and was agile and responsive enough to support design decisions as they happened. The combination of Spirit and Opportunity continued to explore Mars for over 15 years (Image Credit: NASA/JPL/Cornell University).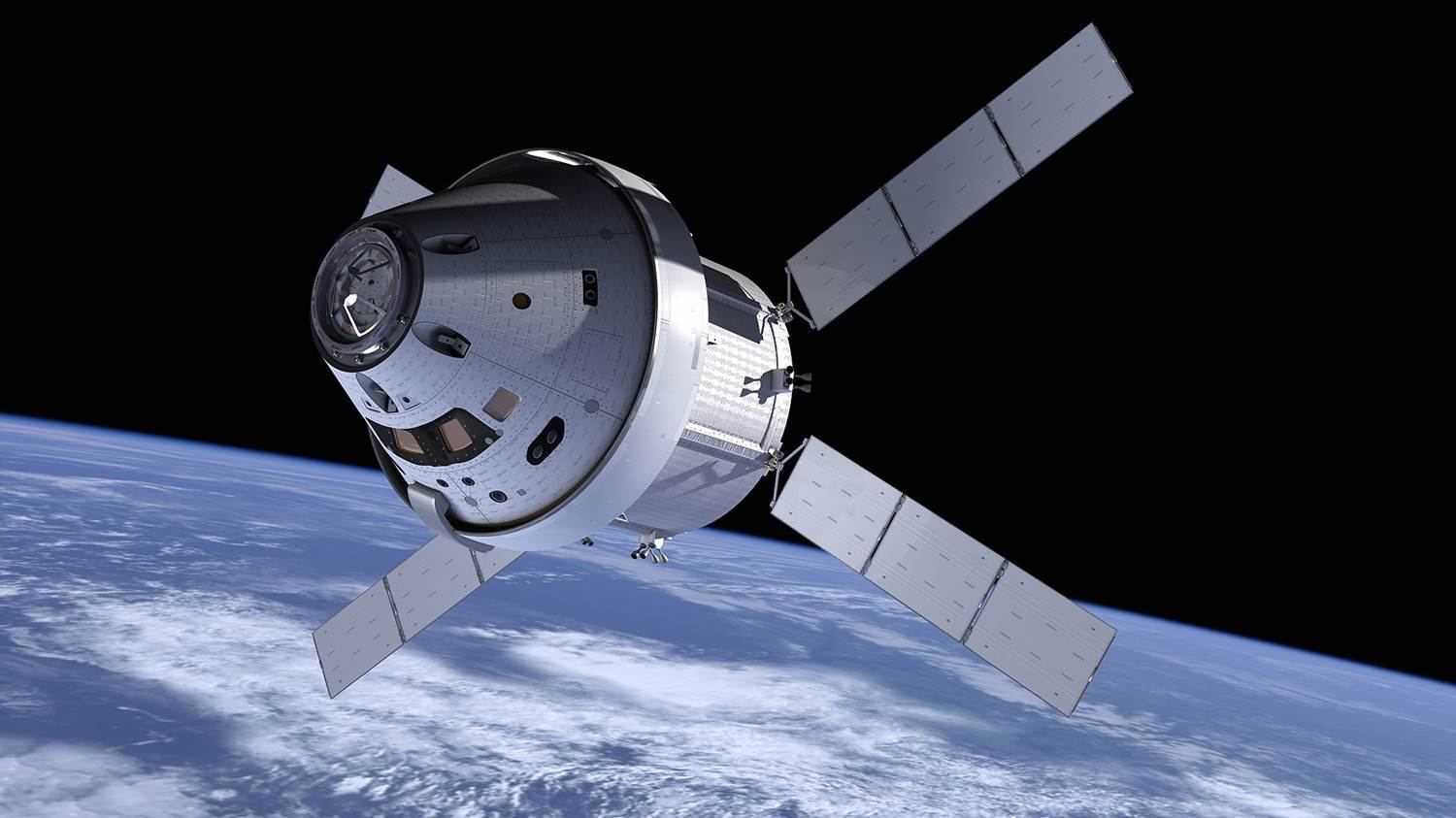 NASA Orion (launched 2014)
I led the Northrop Grumman team for the NASA Concept Exploration & Refinement (CE&R) of the Orion spacecraft, including trades, system analysis, integration, development, cost, and risk, working directly with the NASA HQ and NASA JSC customers, as well as Northrop Grumman's teammate Boeing.
During Orion Phase I, I led the Spacecraft Integration organization which performed spacecraft analysis, mass properties, margin management, and integration of the Orion spacecraft. In addition, I worked on multiple areas of the Orion Phase I and Phase II proposals. I conducted docking adapter trade studies and helped to develop requirements for crew habitable volume for Orion. I flew contingency simulations of the spacecraft (I was in the right seat, a former NASA Astronaut/Test Pilot was in the left seat). I was slated to be the Design Integration Lead for Phase II Orion.
I also led the Northop Grumman Lunar Lander Design team to architect and develop a baseline concept Lander Vehicle (Image Credit NASA).
NASA Space Launch System (Launching 2020)
Working with NASA, I provided program development expertise to the Ares Projects Office (later the Space Launch System) at NASA MSFC, the Constellation Program Office at NASA JSC, and the Exploration Systems Mission Directorate (ESMD) at NASA HQ.
I performed trade studies and decision analysis in support of the continued development of the Ares V Heavy Lift Launch Vehicle (now SLS), and continued concept refinement for Lunar and Mars architecture studies.
I provided a series of policy and programmatic inputs to the U.S. Human Space Flight Plans Committee in 2009, and was active in the development of the NASA Constellation Storybook developed in concert across multiple NASA centers. This led to a series of research projects related to comparison and evaluation of multiple historical space exploration roadmaps and historical study of program development at NASA MSFC (Image Credit NASA).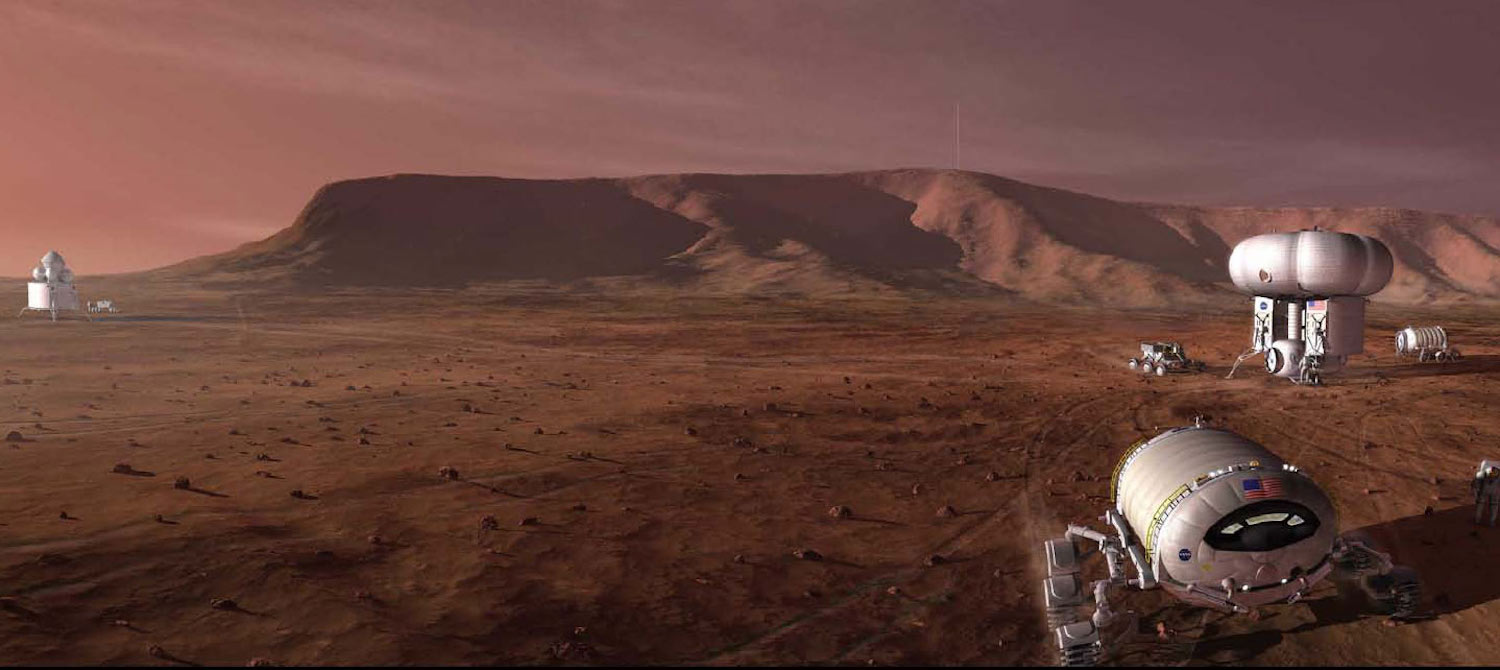 NASA Human Exploration of Mars Design Reference Architecture 5.0
I participated in the development of the NASA agency-level Mars Design Reference Architecture 5.0 (NASA-SP-2009-566) [Download], serving as the Launch Vehicle Segment Lead on the Flight & Surface Systems Team. I contributed to the development of the dual-use shroud concept for use in the packaging, launching and landing of very large interplanetary payloads. Unveiled in 2009, this architecture has remained the guiding document for over 10 years. (Image Credit: NASA)
C/NOFS (Launched 2008)
I performed conceptual design of the reference spacecraft, including space vehicle concept design visualization and payload placement, packaging, and risk assessment (Image Credit: NASA/Goddard Space Flight Center).
Bigelow Forward Propulsion System
I worked for the contractor selected by Bigelow Aerospace to design and develop the forward propulsion system. After co-authoring the proposal, I performed a variety of project management roles (tracking, scheduling, purchasing) and technical roles (system architecture, initial concept/packaging). I worked on the program from concept through preliminary development, and also participated in early testing and prototype manufacturing.
Co-Founder, Zero Point Frontiers Corp.
In 2008, I co-founded an aerospace company. By the time I sold my ownership to my business partners in April 2012, this small business had grown to 15 employees and provided concept development expertise, strategic input, and decision support to the aerospace industry. I developed and implemented general and administrative functions, commercial processes, information systems, and corporate branding. For our NASA and commercial space customers, I served as a subject matter expert for concept and program development, strategic planning, and feasibility studies for key decision makers.
ZERO-G Corporation First Publicly Offered Commercial Weightless Flight (2004)
In October of 2004, I participated in the first publicly offered commercial weightless flight. Operating out of the Hard Rock Casino Hotel in Ft. Lauderdale, FL, by the ZERO-G Corporation this flight took place a few weeks after the winning of the Ansari X Prize. I was one of three participants featured in a Fantasy Camp documentary which aired on the Fine Living Network.
NASA ProSEDS Icarus Satellite (Completed, Mission Cancelled)
At the University of Michigan, as Project Manager, I led a design team of 60 students from a variety of backgrounds through the design of the Icarus Satellite for the NASA Propulsive Tethered Satellite Mission. I championed the renaming of the satellite to Icarus since it was designed to fall from the sky as one end of a propulsive tether experiment and designed the mission patch.As project manager, I was responsible for project setup and organization, scheduling, resource planning, trade studies, and design. I also prepared the design reviews for the NASA MSFC customer.
After I had graduated, this spacecraft went on to be built and tested, but the ProSEDS mission was cancelled prior to launch. As I understand it, the Icarus spacecraft is currently in storage, crated and guarded by Top Men.
NASA HPCC CME Virtual Reality Simulation (1998)
As part of the NASA High Performance Computing and Communications (HPCC) Earth and Space Sciences Project Science Team II Grand Challenge Investigations at the University of Michigan in 1998, I designed a standardized interface for creating and displaying virtual reality flow visualization models of Heliospheric plasmas in a CAVE Automated Virtual Environment (NASA HPCC). This work was performed by translating scientific outputs of Coronal Mass Ejection (CME) models into Virtual Reality. This included building the virtual world, spacecraft modeling (3D Studio Max), textures, animation, and UI/UX (VRML). Billed as Holodeck-like technology of the time (the late 1990s), the ability to create a projected 3D visual model of the sun, overlaid with CME traces, and to included basic animated features like the orbiting Ulysses spacecraft, was really novel and exciting visual experience. This project was written up in NASA insights in 1998, and you can still read the entire article here (Image/Caption Credit: NASA, 1998).
VORTEX Space Shuttle Payload (Launched 1998)
VORTEX was a University of Michigan Get Away Special (GAS) experiment that flew on Space Shuttle Missions STS-89 and STS-88. I worked to coordinate the refurbishing and flight-readying of the VORTEX payload for its reflight on the Space Shuttle STS-88 in 1998. STS-88, carrying the first American component of the International Space Station, successfully launched in December of 1998. Also, I got to crawl inside Endeavour's mid-deck during a tour of the Orbiter Processing Facility!